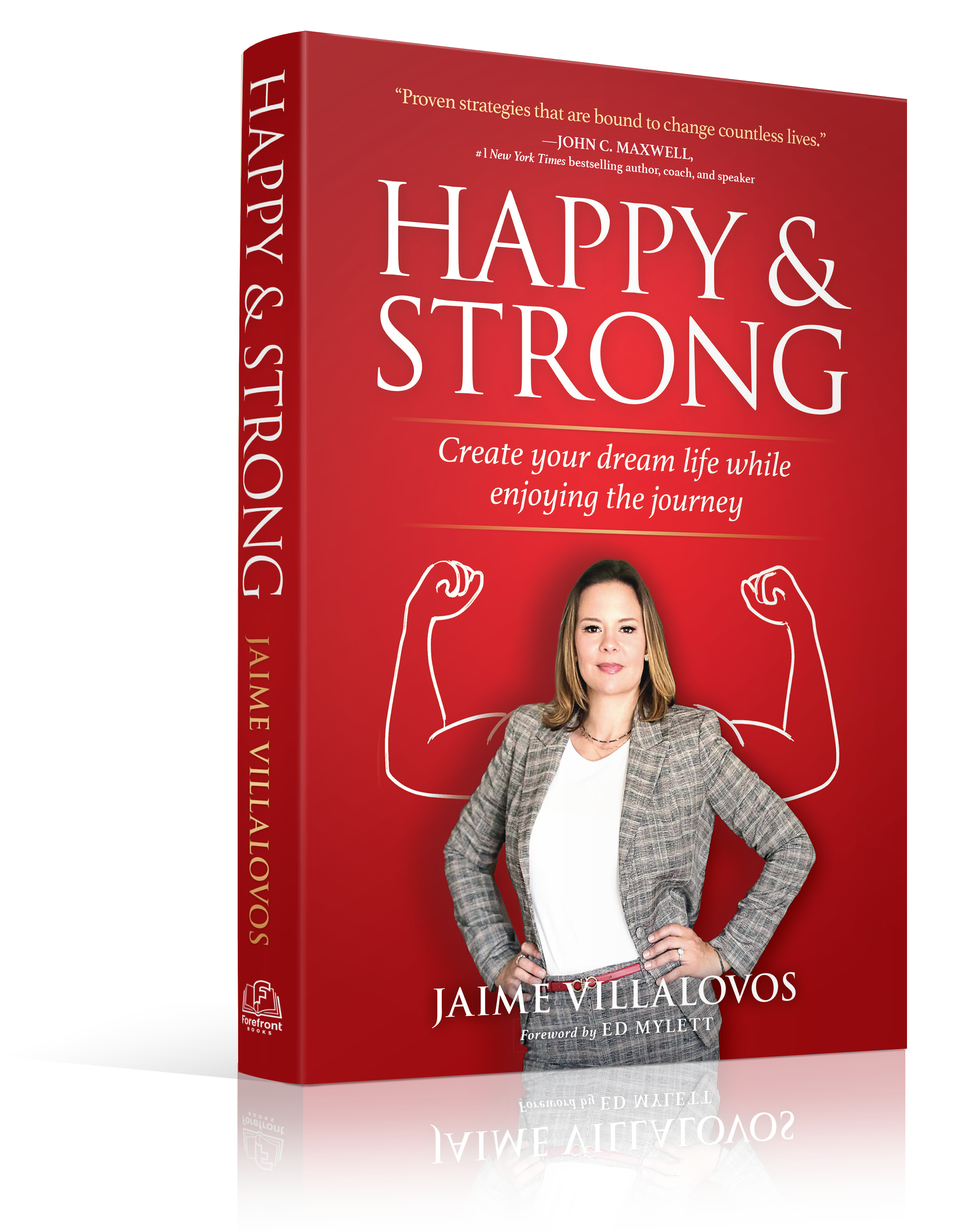 Happy & Strong gives you valuable tools and methods, not empty promises. This book will help you learn ways of thinking and behaving to create the life you desire. In the author's journey to success (from poverty to one of the top female earners in the world), you will learn to WIN in all areas of your life: faith, family, finance and fitness.
Available for anyone, anywhere at local bookstores and Amazon..
Buy now from any of the links below!
Ed Mylett
Peak performance expert, global keynote speaker & best-selling author
"Jaime Villalovos is the real deal, which is rare. She is a great example of how to 'MAX OUT' every area of your life and proof that you can 'have it all.' You will feel that as you read this book. This is a must-read for all entrepreneurs."
John C. Maxwell
No. 1 New York Times best-selling author and leadership expert
"My friend Jaime exemplifies my '21 Irrefutable Laws of Leadership.' She has spent the last twenty-two years mentoring, leading, serving and inspiring thousands of people to reach a more significant and fulfilling life. Her book, Happy and Strong, is packed with wisdom that is needed now more than ever. It lays out strategies and tools that are bound to change countless more lives. I recommend this book to help you navigate a path to your own 'Happy and Strong.'"
Sean Covey
New York Times best-selling author and President of Franklin Covey Education
"Jaime is a principle-driven leader. After reading her engaging new book Happy and Strong, you will walk away inspired and with practical tools to add more joy and balance to your life."
Linda Eyre
#I New York Times bestselling author, international speaker, and expert on parenting, life balance, and family strengthening
"Jaime Villalovos is a unique woman who has been able to come out of an incredibly difficult childhood with a positive passion and a vision for a better life. With grit and determination to reach for her dreams, she has become a powerful advocate of balancing a strong family with meaningful work. Get ready to be inspired!"
Steve Siebold
author of 177 Mental Toughness Secrets of the World Class
"This is the story of a gritty, tough-as-nails little girl from a trailer in Montana who envisioned her ideal world and conquered it. Jaime Villalovos is living the American Dream, and this book is her blue­ print for success."
Jenna Kutcher
host of the top-rated Goal Digger podcast, author, and educator
"This book is for any driven woman who wants it all and is ready to define exactly what that means for her own life!"
John Assaraf
entrepreneur and bestselling author of Having It All and The Answer
"If you care deeply about your long-term happiness and success, then put this book on your required reading list. You will be inspired as you learn sensible ways to help you achieve your vision and goals. Jaime's sincere and heartfelt advice, garnered from her hard-won life experience, will guide you there."
Shane And Lisa Dorian
big wave pro surfing legend, inventor, coach, entrepreneurs, and owners of Kimi & Li Bikini Company
"Winning and accolades mean nothing if your family doesn't come first. Having a book like Happy & Strong would have been great as we fine-tuned the balance and communication in our marriage and with our kids over the last couple of decades."
Penny Ooi
executive chairwoman for World Financial Group, philanthropist, entrepreneur, and mother
"Jaime is such an incredible example of a focused businesswoman, leader, and coach. I'm most impressed, however, by her personal life. She is the 'balanced life' queen!"
Jeff Levitan
entrepreneur, philanthropist, and founder of All For One Foundation
"For the two decades I've known Jaime, I can say without a shadow of a doubt that she walks her talk. This book is a must-read for everyone who wants to have the gift of mental and physical fortitude, as well as joy and fulfillment! Happy & Strong is more than a title to a book; it should be a goal for everyone to shoot for in their lives."
Sir John Shin
executive producer of Think and Grow Rich: The Legacy, author of How Rich Asians Think, and serial entrepreneur
"Jaime is nothing short of amazing! This is a true-life rags-to-riches story. No one is better at teaching how to win in every area oflife than she. I'm so excited the world will have this book."
Ryan Michler
bestselling author, podcaster, and founder of Order of Man
"In a world where people seem more and more willing to give up their personal sovereignty, this book will help you to recapture it. Jaime's story proves that anyone can do it if they're willing to do the work, and she gives tangible tools and tips to help you be happier in every area of your life."
Subscribe to my YouTube channel to see more videos on personal development, saving money, and family life.